ADDIE Model
The Design of the Training Tool was based on the ADDIE model. The ADDIE model is a framework that lists generic processes that training developers use. It represents a guideline for building effective training tools in five phases.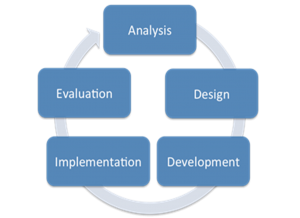 Analysis phase
The analysis phase clarifies the instructional problems and objectives, and identifies the learning environment and learner's existing knowledge and skills. During the analysis, the objectives of the training tool will identify the needs of the target population, existing knowledge and any other relevant characteristics that help in better understanding. There will also be an environmental analysis.
Analysis phase
The analysis phase clarifies the instructional problems and objectives, and identifies the learning environment and learner's existing knowledge and skills. During the analysis, the objectives of the training tool will identify the needs of the target population, existing knowledge and any other relevant characteristics that help in better understanding. There will also be environmental analysis.
Design phase
The design phase deals with learning objectives, assessment instruments, exercises, content, subject matter analysis, lesson planning, and media selection. The design phase should be systematic and specific. Systematic means a logical, orderly method that identifies, develops, and evaluates a set of planned strategies for attaining project goals. Specific means the team must execute each element of the instructional design plan with attention to detail.
Development phase
In the development phase, the developers create and assemble content assets described in the design phase.
Implementation phase
During implementation, the plan is put into action and a procedure for training the learner and trainer is developed. After the implementation, the effectiveness of the training tool is evaluated. The implementation phase develops procedures for training facilitators and learners. Preparation for learners (clients & therapists) includes training them on the new tool. Implementation includes evaluation of the design.
Evaluation phase
This phase consists of (1) formative and (2) summative evaluation. Formative evaluation is present in each stage of the ADDIE process. Summative evaluation consists of tests designed for criterion-related referenced items and providing opportunities for feedback from the learners. Revisions are made as necessary.
What kinds of experiences do Drug addicts need
Psychosocial interventions are structured psychological or social interventions used to address substance-related problems. They can be used at different stages of drug treatment to identify the problem, treat it and assist with social reintegration. Psychosocial interventions are used to treat many different types of drug problems and behavioural addictions. Clients are helped to recognize the triggers for substance use and learn strategies to handle those triggers. Treatment providers work to help patients to identify alternative thoughts to those that lead to their drug use, and thus facilitate their recovery. Psychosocial interventions can help drug users to identify their drug-related problems and make a commitment to change, help clients to follow the course of treatment and reinforce their achievements.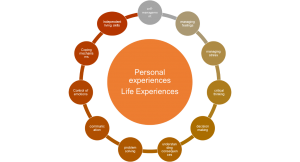 Desired new behavior
Life skills (decision-making and problem-solving skills, self-awareness, empathy, assertiveness, equanimity, resilience and general coping skills among others) are abilities that support the addicted person to adopt a positive attitude and enable him/her to effectively meet the demands and challenges of everyday life. The term "life skills" includes a cluster of cognitive, socio-psychological and interpersonal skills and behavioral that help an individual make informed decisions, communicate effectively and improve his/her interactive and self-managed skills and adopt an active, healthy lifestyle. Life skills can organize personal, interpersonal and environmental actions in a way that leads to better health, which in turn leads to more physical, psychological and social comfort. These skills allow the individual to accept the responsibilities of his social role and effectively address one's own demands and expectations without harming him/ herself or others. Life skills training is a holistic approach to developing values, skills, and knowledge in persons, helping them to protect themselves and others in a number of risk situations.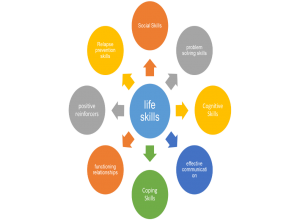 The purpose of life skills education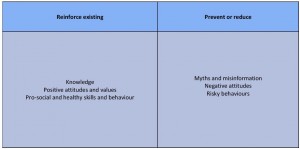 Life Skills and sub-skills in a drug use treatment program

How to achieve desired new behavior and the goals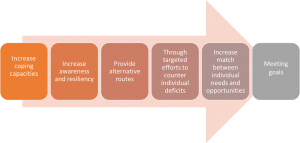 Adventure Therapy
Adventure Therapy (AT) is used as a clinical tool to promote therapeutic changes to clients and has widespread use in a wide range of mental disorders either as a primary, complementary or parallel therapeutic tool. Is an active and experiential approach to group psychotherapy that uses outdoor activities as the main tool, utilizing real or perceived physical and psychological risk as clinically important factors in achieving desired change and goals. Is a program in which outdoor activities, which are physically and/or psychologically demanding, are used in a security and skills training framework to promote interpersonal and intrapersonal development. Adventure therapy is a form of experiential learning. Outdoor adventure activities are the primary practice of adventure therapy, while experiential learning methodologies guide its facilitation. As seen throughout this text, adventure-based outdoor activities have provided context for a diverse range of applications across the human experience. As such, the fundamental processes of designing and delivering adventure-based activities are fairly common regardless of their application or depth of intervention. Further, the concept and realities of experiential learning facilitation have played a central role in the development of these multiple expressions and manifestations of adventure programming.
The common basis of Experiential Learning adds to the fact that in AT-programs there is a need for therapy, to begin with, and the program is designed to address this need. This might be different from other Experiential Learning or Experiential Education programs. In AT, participants come with a therapeutic question and want to address their problem within the context of an AT program. The program has to have a clear start and an end, depending on the needs of clients. There is a dynamic process going on between the identified needs and the program design.
Adventure therapy is practiced across the spectrum of public health, including in prevention, early intervention, treatment and continuing care for a range of health difficulties. Examples of the use of adventure therapy across this spectrum are provided.
Prevention – is keeping people healthy, well and connected
Early intervention – is intervening early before the onset of a dysfunction, diagnosed difficulty, disorder or disconnection
Treatment – is offering a tailored treatment for people with a known dysfunction, diagnosed difficulty, disorder or disconnection
Continuing care – is helping people to maintain their health and wellbeing
Adventure Therapy Features
therapeutic/counseling/ educational theories

Cognitive theory
Reality   theory
Gestalt therapy
Experiential education
"learning by doing"
Outdoor education

Basic elements

The positive effect of nature on the healing process
The positive use of stress
Active and direct involvement and responsibility of clients in their treatment
Participating in adventure experiences that are meaningful to the client, particularly with regard to physical consequences
Focusing on positive changes to current and future client behavior
The use of unfamiliar experiences in nature and strong care and support embraced throughout the therapeutic experience.

Principles

The client becomes a participant and not a spectator in the treatment.
Therapies require customers to create personal motivations in the form of energy, engagement, and responsibility.
Therapies are real and meaningful in terms of physical consequences for the client.
Reflection is a crucial element of the healing process.
Changes must have as much and future significance for customers and their society

Characteristics

Evaluating participants before adventure therapy
Pre-activity discussion to prepare participants for personal change
Activities selection to create personal change for participants
The reflection phase to identify new experiences from participants and encourage their transfer to their everyday life.

Benefits

Active quintessence
Experiential learning
Call for action and encouragement of physical participation.
In and out of therapeutic procedures.
Creating a transfer of experience into everyday life
Experiment with roles and archetypes.
Our entire existence to "me in this state"
Nature and its properties as a screen.
An alternative input to awareness.
Treatment focuses on capabilities and forces rather than limitations and vulnerabilities.
Actions have clearly visible consequences

Goals

Self-esteem
Self-confidence
Self – expressions
Self-awareness
Self-control
Self-efficacy
Goal setting
Trust
Self-critical thinking
Abstinence focused strategies
New Identity development
Responsibility
Therapeutic Alliance

Outcomes

Knowledge/awareness
Personal growth/challenges
Responsibility
Relationships with others/teamwork
Social Skill Acquisition
Determination/ perseverance
Physical fitness
Transference
Self s awareness/improvement/fulfillment
Achievement of a personal goal
Self-confidence/esteem, sense of accomplishment
ü  Nature appreciation
Development of Self-Concept
Knowledge and Skills
Realizations to Change Behavior
Strengthened Family Relations
Participation in the wilderness in the future
Resiliency
Impact on the attitudes of participants regarding their ideas of self and their connection to wilderness
Increase self-efficacy and transference into the personal, social and work spheres of participants' lives
Adventure therapy and addiction treatment
A broad range of therapeutic directions focuses their attention towards problematic behavior, the vulnerabilities of the client. However, alternative programs have proved to be successful for drug users and young offenders. Adventure therapy is an emerging therapeutic intervention in mental health practice to help individuals overcome emotional, addiction and psychological problems. In that frame, Adventure therapy activities provide an alternative way of addiction counseling: the alternative behavior can be the entrance and fuel the awareness of the meaning-making process. Instead of waiting for rational self-arguments or insights as to the necessary starting point for change, clients can begin experimenting with alternative behaviour and trying out new things whilst being aware of the effect on themselves. In the adventure therapy approach, the attention and the perspective are placed on the present and on the future. It illuminates different ways to act and to engage the clients with all of their skills and abilities, with their limitations and taking into account their personal history, but focused on possibilities and strengths. There is a need to develop specialized adventure programs for substance users.
Adventure therapy programs can:
Be proposed and adopted as a cost-effective treatment for drug dependence
Be proposed as an alternative for people who do not want to engage in traditional treatment
Helps addicted people to understand the changes they need and want to do in their lives
Gives a sense of accomplishment to the addict who is specific and real and who can use it in his everyday life.
Manage negative emotions
Increase their self-confidence
Create a more favorable environment for staying in treatment
Can help individuals develop strategies to deal with abstinence
Adventure therapy leads to the assimilation of personal and interpersonal skills, such as communication skills, drug and alcohol awareness, and coping skills.
The therapeutic benefits were not only sustained but continued to improve for a whole year after the intervention
People who deal with problems with substance use are looking for these alternative treatment options by choosing something different from what traditional treatment offers them
Activities that are consistent with the addiction treatment goals

Goal setting

Awareness

Cooperative games

Trust

Communication

Ice breaker

Socialization games

Acquaintance Activities

Communication Activities

Trust Activities

Group Problem Solving Activities

Outdoor Experience

Risk taken activities

High adventure activities

Group initiative tasks,

Group problem solving,

Group challenges,

personal challenge activities

Decision making/problem solving

Team tasks

Adventure experiences
There is a need to:
Identify and recognize specific behavioral, psychosocial and cognitive goals that we want to achieve through a treatment program.
Define a specific therapeutic approach for this population. The way an experience is acquired is important as it is associated with selecting a particular activity.
Determine if adventure programs are inappropriate or negative treatment for specific individuals under particular circumstances. The adventure program has the potential to create positive changes.
Determine whether a customer can participate in or be excluded from therapeutic adventures activities
Goals for Therapeutic Adventure Programs for Substance Abusers
Behavior Oriented Goals
–           Improve communication skills

–           Increase individuals' abilities to change their lives in a positive manner

–           Provide motivation to change existing lifestyles

–           Teach clients social integration skills

–           Discover new, positive recreational experiences

–           Provide greater impact/efficiency to the recovery process. ( e.g., shorten the length of hospitalization for the client)

–           Teach clients to find and incorporate appropriate alternative lifestyles

–           Reduce incidence of problem drinking and/or drug abuse

–           Teach clients the steps of how to work through social integration skills

–           Find new lifestyle directions

Psychosocial Goals
–           Increase self-esteem/concept

–           Increase levels of trust in others

–           Increase the ability to accept self-responsibility

–           Confront fears and feelings

–           Re-assess one's own potential

–           Increase socialization skills

–           Increase sense of self-competency

–           Re-evaluate personal values

–           Increase autonomy(i.e., independence)

–           Increase levels of maturity

–           Let go of past, or accept past

Cognitive Development
–           Teach goal setting strategies and plan for their results

–           Teach techniques in stress reduction

–           Teach about the dysfunctional behavior patterns of substance abuse
Setting
Nature is a healing environment as it can provide natural challenges, offering benefits to both the physical and psychological condition of the individual. In nature, the person improves his / her self-confidence, regains a sense of calmness and makes thoughts that may lead to the discovery of a different new self. Adventure therapy usually takes place outdoors.
Contact with nature has been shown to be a strong determinant of health, thereby justifying significant consideration in designing intervention strategies. Nature is a therapeutic environment as it can provide physical challenges for the person and offer both physical and psychological benefits improve cognitive functioning as interactions with nature can make a significant contribution to cognitive control. The individual can benefit from their experiences in the natural environment not only by restoring depleted resources but also by acquiring new skills. The individual improves self-confidence, regains a sense of calm, and makes thoughts that lead to a reflection that can lead to the discovery of a different young self who is less conflicted with less tension.
Nature restoration experiences can emerge as part of an intentional strategy for managing adaptive resources as well as incidentally, during their lives in an area close to nature. In this context, adventure therapy, which usually takes place outdoors is a type of program in which outdoor activities that are physically and/or psychologically demanding are used in a safety and skills training context to promote interpersonal and interpersonal development, utilizing a range of activities/experiences such as goal setting, awareness-raising, trust activities, group problem solving and individual problem solving.
Nature can contribute to health in the following ways:
In nature, the person is experiencing an inability to control the environment, which can help to cope with the stress of everyday life
Limited environmental control in nature may lead to a reduction of forced control over other aspects of a person's life, leading to a more relaxed and comfortable attitude
Nature can help the individual to improve self-esteem and self-confidence
In nature, the person improves the ability to learn through engagement with the environment
Physical challenges can improve physical fitness
Benefits of Outdoor Adventure
Dimension
Benefits
Personal
–          New experience – adds a kick to participants" lives, allows them to experience something

–          High-risk experience – facing perceived danger may help participants overcome fears, gain self-confidence, and enhance their ability to cope

–          Escape – offers release from the tensions and complexities of modern life

–          Success – allows participants to achieve a highly personal sense of accomplishment

–          Knowledge – participants learn more about themselves and the environment

–          Physical fitness – physical activity can help burn calories and increase strength, stamina, and flexibility

Economic
–          Minimal financial investment – provides interesting and pleasant activities at a reasonable cost
Social-psychological
–          Socializing – provides a chance to meet others who have similar interests

–          Unity – promotes cohesiveness and doing things together without the distractions of everyday life

–          Cooperation and trust – promotes better relationships through cooperation, appreciation of others, compassion and respect

–          Nature and outdoors – promotes aesthetics appreciation for nature and concern for vanishing wild places

–          Compassion, cooperation, respect for others, communication

Educational
–          Improved academic abilities, awareness of nature and the environment, problem-solving, outdoor skills, values clarification
Physical
–          Strength, coordination, balance, cardiovascular endurance
Skill
–          Goal setting

–          Decision making

–          problem-solving

–          responsibility

–          physical development

–          nature awareness

–          communication

–          leadership

–          Independence

–          interdependence

–          self-efficacy

–          willingness to take risks

–          tolerance

–          respect

–          trust

–          compassion

Recreational
–          Enjoyment

–          relaxation

–          entertainment

–          excitement

–          catharsis

–          self-expression
Risk
Risk management relates to the perception of risk relative to the actual level of risk associated with a particular activity. With adventure experiences, with particular internal mechanisms, such as contrast and unknown knowledge, most people perceive adventure experiences as more dangerous than they actually are when they are involved. However, the activities must be "risky enough to provide an adventurous learning experience and engaging enough to challenge the participants, but appropriate to reduce the real risks they face". The adventure involves both physical and emotional/psychological risks. Risk, both real and perceived, is an essential part of planning as it is essential to success. Risk-taking helps clients do something they believe they cannot achieve by transferring that attitude into their daily lives.
Excessive risk = negative experience
The real risk exposes the client to possible damage, while the perceived risk is only an illusion of risk.
Examples of the Interacting Factors that Increase the Probability of Accidents in Adventure Activities.
Inappropriate conditions

(environment)

Unsafe acts

(client)

 

Judgment errors

(adventure therapist)

 

Falling rocks/objects

Weather

Swift/cold water Inadequate area security

Inadequate equipment/clothing

Animals/plants

Psychological/physiological

profile

Inadequate protection

Inadequate instruction

Inadequate supervision Unsafe speed

Inadequate food/drink

Poor position

Unauthorized procedure

Desire to please others

Following a schedule

Misperception

Disregarding instincts

Fatigue

Distraction

Miscommunication
Processing
The processing is defined as the techniques used to increase the healing properties of the adventure experience based on an accurate assessment of the client's needs. The treatment can occur before, during or after the adventure.
The processing activities can be used to:
help individuals concentrate or raise awareness prior to experience
to facilitate awareness or to promote change while the experience is occurring
to describe the experience after completion
enhance change and incorporate it into the life of the participants after the end of the experience
Process learning Models
KOLB'S learning cycle model
The learning cycle basically involves four stages, namely: concrete learning, reflective observation, abstract conceptualization, and active experimentation. Effective learning can be seen when the learner progresses through the cycle. The learner can also enter the cycle at any stage of the cycle with a logical sequence.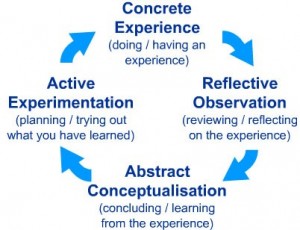 Concrete Experience – a new experience or situation is encountered, or a reinterpretation of existing experience.
Reflective Observation of the new experience of particular importance are any inconsistencies between experience and understanding.
Abstract Conceptualization – reflection gives rise to a new idea or a modification of an existing abstract concept.
Active Experimentation – the learner applies them to the world around them to see what results.
Comfort zone model
The comfort zone is a psychological state in which things feel familiar to a person and they are at ease and (perceive they are) in control of their environment, experiencing low levels of anxiety and stress. In this zone, a steady level of performance is possible.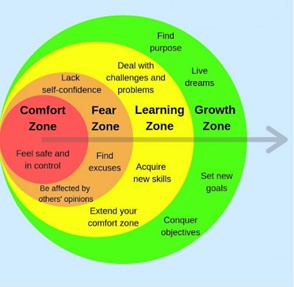 Think of some moment in which you felt some anxiety during the activity?
What makes you feel at risk?
How do you know that you were anxious? Where did you notice in your body?
Where it was?
Who did you be with? Or were you alone?
What made you go from Learning zone to Panic Zone?
What did you/others do to go to your Learning zone again?
Do you feel your Center zone expanded after that experience? How?
Tell 3 things that were obvious
Tell 3 things that now you know were from your imagination
Professional adventure therapist/ Facilitator
Participation in adventure therapy without education or training could have not only negative psychological effects but also possibly harmful physical effects on the clients.  Must be professionally trained in both treatment and adventure planning as they should have both traditional counseling skills (soft skills) and additional skills such as outdoor sports management (hard skills).
Hard skills are solid, tangible, measurable, and often easier to assess. Hard skills for effective adventure therapist include technical activities, safety/risk, and environment.
Soft skills are amorphous, intangible, difficult to measure, and often more difficult to assess. Soft skills for adventure therapist include organization, instruction, and facilitation.
The effective adventure therapist mortar, which cements everything together, is a mix of metaskills, those core competencies of a higher order that integrate with and potentiate the other skills.
Adventure therapist/ Facilitator Skills
Hard
Soft
Metaskills
–          Tangible

–          Technical

–          Rigid

–          Concrete

–          Definable

–          Easily trained

–          Quantity

–          Stable

–          Measurable

–          Easier to evaluate

–          Unique to every activity

–          physical condition

–          Weather interpretation

–          First aid

–          Intangible people

–          Flexible

–          Pliant

–          Immeasurable

–          Difficult to train

–          Quality

–          Organization

–          Instruction

–          Facilitation

–          Traditional counseling

–          More interpersonal

–          Reflective listening

–          Verbal & non-verbal communication

–          Reflection

–          Leadership

–          Problem-solving

–          Decision making

–          Moral behavior

–          Combination  of hard & soft skills

–          Integrate

–          Incorporate

–          Strengthen

–          Intensify

–          Augment

–          Enhance

–          Reinforce
Adventure Therapist/ Facilitator features
 
Actions
Capabilities
Supervision
Adventure  therapists
–           Act as the vehicle for change

–           Have a facilitating role in co-constructing change processes with the client

–           Must develop knowledge of planning

–           Selecting appropriate activities

–           Encourages balanced participation from group members

–           Actively plan and frame adventure experiences around critical issues for clients

–           Observes participants functioning and compares observations with known frameworks for human behaviour, then develops action plans.

–           Focusing on the development of specific therapeutic outcomes manage the processing of information

–           Establishes empathy with participant

–           Facilitate transfer into real life

–           Maintain less stringent limits than traditional therapists

–           Should discuss the limits before any Adventure treatment mission

–           "Leaving their chairs"

–           States own needs clearly and appropriately

–           Active experiences to highlight the "walk" experience and not just "talk"

–           Reflects back participant's thinking and feeling and meaning of verbal and non-verbal communication

–           Should respect the client's rights

–           Provide treatment

–           Have training in adventure therapy

–           Have the skills to integrate the adventure therapy into the therapy

–           Risk management plans Small-group dynamics

–           Liability considerations

–           Outdoor leadership methods

–           Judgment

–           Minimum- impact practices

–           Decision making

–           Assessment of group capabilities

–           Outdoor leadership objectives

–           Have knowledge of group safety

–           Anticipate problems

–           logistics

–           Develop safety procedures

–           Apply physical and emotional care

–           Limit activities to capabilities

–           Model positive attitudes

–           Recognize own limitations

–           Recognize problem indicators

–           Awareness of group dynamics

–           Wilderness first aid skills

–           Ability to foster teamwork

–           Ability to provide personal growth

–           Ability to clearly identify problems

–           Ability to anticipate accidents

–           Judgment based on experience

–           Awareness and empathy

–           Group- management skills

–           Problem- solving skills

–           Instructional skills

–           Technical activity skills

–           Flexible leadership style

–           The reflection of the experience

–           The investigation of strategies and interventions undertaken with clients

–           The investigation of the healing process

–           The examination of processes in the reality of the client

Focus on the transfer of experiences
Adventure Therapist/Facilitator techniques
The Debriefing Process: What?, So What?, Now What?
The overall aim of debriefing is to give clients the opportunity to understand what happened to them and to connect and transfer these experiences to their daily lives.
What?
Is the activity itself, a summary of what happened. The debrief focuses on the most recent activity. Ideally, more emotional or confrontational issues should be addressed in the later stages of the program, and so activities need to be sequenced to the physical and emotional needs and abilities of group members. Debriefing typically commences with questions concerning the "What?" as in "What happened in that activity?". In this part of the debriefing, the facilitator encourages as many group members to provide their perception of the activity. This focuses on content about the experience rather than participants' emotional responses.
So what?
Is what you learned about yourself and others from the activity. Is focuses on the emotional meaning held by individuals as a result of what had previously taken place. The role of the facilitators is to encourage group members to describe the emotions that were generated as a result of what happened. This phase of the debrief attempts to link the emotional experience of group members to the content (the "What?") and the subsequent roles played by individuals within the activity. Insights into group processes are heightened, and self-discovery maximized.
Now What?
The third phase of the debrief, builds naturally from the "So What?". Is what you derive—the takeaways—from the group activity to apply to your life and at work. Questions in this phase center on, "Now what will you do differently in future?". This becomes a goal setting exercise for both individuals and the group where intentions for behaviour change are defined. Participants are encouraged to apply what has been learned to their relationships and lives outside of the program. This phase can also establish new ground rules (for the contract and the classroom) and initiate future activities that practice newly acquired group behaviour.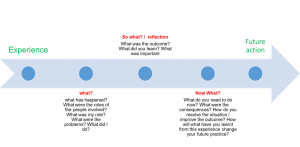 Examples of Debriefing Questions
What?

 

What happened just now?

What did you see happening?

If a stranger walked into the room and you had to tell them exactly what happened what would you say?

If you had to explain how to do this activity to someone that was not here, how would you explain it?

Can anyone give an example of what was good communication

/problem solving/working together (whatever the objective was) today?

What went wrong with the communication/problem solving/working together attempt?

What nonverbal communication did you see?

How did you decide what to do during the activity?

Was everyone heard? If not, why not? Were people listening to each other? Did they communicate with each other?

What feelings did the different people express today?

So What?
How do you feel about what happened?

What is one feeling word that describes how you feel right now?

What was your body feeling during the activity?

Where in your body were you feeling this?

What did you do with that feeling?

Would you like to feel differently in a similar situation?

If so, how would you like to feel?

Now What?
So what happens now?

What did you learn from that?

About yourself?

About others?

What would you do differently next time?

How does that apply to your life?

What is the best way for this group to make decisions / solve problems/work together?
Funnel Model of Debriefing
Replay
The replay question focuses the group on the topic or issue of interest-based on client needs, your program objectives, and any incidents that took place in the activity.
Remember
The remember question gets clients to identify an incident relating to the topic that took place during the experience. If you bring up the incident, the group may deny it or perhaps feel confronted. Therefore, you should ask a question that gets the group to bring up the issue, giving it ownership and control over the situation.
Affect and Effect
The affect/effect question addresses emotions and causes. Once clients bring up a specific incident related to an issue, you can ask other questions to ascertain the impact of that occurrence. These questions examine how each individual felt and how the group was influenced by the event
Summation
The summation question highlights new learning. Once you have ascertained the impact of the event, you ask clients to summarize what they have learned about the issue. So far, they have identified an occurrence and discussed its influence on their task performance and group dynamics.
Application
The application question helps establish linkages between the learning experience and real-life situations, thereby reinforcing learning and helping solidify its transference. Ask clients to make connections in the form of metaphors, or analogies, between the adventure and daily life.
Commitment
The commitment question looks toward change. Once clients have noted the usefulness of the new learning and how they might apply it in their daily lives, ask them to make a pledge and plan for action. You should press for answers in the form of an 'I' statement and get the group to support members who commit to doing things differently because of their guided reflection on the experience.
Funnel Guide questions
Filter

Guide questions for each filter in the funnel

 

Replay

Can you replay or review the last activity for me?

What are some__________ [topics] that you needed in that activity?

On a five- point scale, hold up the number of fingers that indicates your level of performance___________ [topic], with five being exceptionally great.

 

Remember

Do you remember an example of excellent (or poor) ________ [topic]?

Can you recall a particular time when________ [topic] was good (or bad)?

Affect/effect
What emotions did you experience?

How did this affect your feelings?

How did this emotion impact the group?

What influence did this have on the task?

Summation
How does the moral of this story go?

What did you learn from all of this?

Can you sum up what you have gained from our discussions (or reflections)?

 

Application

Do you see a connection between this learning and your life back at school?

Can you apply this on the job?

Do you see any parallels to your family?

Commitment
What will you do differently next time?

Begin with the words, "I will". How can you commit to change?

Who will help support you in upholding this pledge?
Programming
Programming in adventure therapy involves:
a planning process taking into account factors such as
emotional maturity of clients
levels of physical skills
social development
cognitive abilities
any mental or physical disabilities
a complete assessment and diagnosis of the needs of the client or group
aiming at the selection of activities by the therapist, thus creating the right conditions for change
When designing and selecting adventure activities, the therapist should focus not only on the clinical objectives of the clients or the team but also on the emotional and physical safety of the clients, which is a unique aspect of this type of active intervention.
Careful analysis of activities toward treatment goals requires the ability to assess the needs of the client or group as well as an understanding of the activities selected for these specific goals.
The adventure therapy utilizes a range of activities/experiences such as goal setting, awareness, confidence activities, individual and team problem solving, processing and transfer.
Adventure Therapy activities
This section introduces activities as the primary mode of intervention and the primary catalyst for change in adventure therapy (www.aee.org).
Cooperative Activities
Cooperative activities involve interaction between clients and practitioners that require clients to engage with others for mutual benefit toward the development of therapeutic outcomes. Cooperative activities are often designed by the practitioner with the intention of creating positive interaction and fun. It is important to draw a distinction between games and activities. Games are playful and without expectation for change in a person. Activities, in this context, are chosen specifically for the clientele and with therapeutic intent.
Trust and Support Activities
Trust and support activities involve the creation of an experience in which the client is not in total control and is required to count on other people to accomplish the task presented. It also provides opportunities for clients to be in a position where they provide physical and emotional support and have a level of control over someone's physical safety and emotional well-being.
Initiative Activities
In the context of treatment, initiative activities aim to engage participants in the initiation of emotional or behavioral action towards achieving a therapeutic goal. They require participants to take initiative at solving problems, making decisions, or communicating with one another. Often, they are related to solving problems, and typically encourage a group of people to work together toward a specified outcome. Many initiatives are structured to require physical and mental coordination among participants in order to be completed. Although successful completion is often the focus of clients, it is the process that participants engage in that is the primary focus of the treatment. Initiatives are commonly used with clients in a group context, but it is important to state that these activities are used in a variety of social contexts, including individuals and families (www.aee.org).
High Adventure/Natural Environment Activities
Activities in this section are challenging to categorize for their diversity, both in terms of the activity itself as well as the length of time the activities may occur. Activities discussed here include overnight camping, backpacking, rafting, kayaking, hiking, mountain biking, rock climbing, caving and various other outdoor pursuits. These activities can occur in a day, a weekend, or as part of an extended expedition trip.
Natural environment or low adventure activities have decreased risks and minimal requirements for skills development. The duration may be shorter and may not require advanced skills to be completed successfully. Examples include hiking, creeking, fishing, or paddling on flat water in a controlled environment. In these activities, it is still critical to remain aware that the activity may seem to be low intensity for the practitioner, but may in fact be a high intensity experience for the client (www.aee.org).
Adventure Therapy activities
Activity
Goals
Description
Cooperative Activities
Therapeutic Alliance
Cooperative activities are generally designed to be fun and offer an opportunity for the practitioner to relate to the client on an "enjoyment" level rather than having a focus on problems and deficits. Developing an effective therapeutic relationship between the therapist and the client is a critical component of successful treatment.
Effective Treatment Environment
Cooperative activities can assist clients in developing norms that support therapeutic progress. In a treatment context, creating expectations of confidentiality, respect, safety, belonging and appropriate communication is important. Cooperative activities can enhance the engagement of the client in the treatment process.
Assessment
Cooperative activities provide a good opportunity for assessing various aspects of treatment. Therapists are able to immediately observe the client's level of functioning, including interactions with the practitioner and other participants, willingness to engage, and comfort level taking risks.
Cooperation and Relationship Building
Cooperative activities can be used to support clients in developing the willingness to work together and an ability to do so effectively. Many times, cooperative activities are fun and encourage clients to build positive, healthy interactions with others
Social Skills Acquisition
There are a variety of opportunities with cooperative activities for social skills acquisition. Clients are able to increase their self-awareness regarding their level of functioning through the practitioner and peer feedback. Clients are also given an opportunity to learn and to practice appropriate social skills, and to utilize skills they already possess, such as communication, following directions, or sharing
Trust and Support
Assessment
Trust activities provide a good opportunity for assessing trust and support dynamics and issues. Practitioners can observe how clients respond to activities requiring trust and how clients cope when faced with life situations in which their control is limited.
Therapeutic Alliance
Trust and support activities can be used to deepen the therapeutic relationship, both with the practitioner or with other clients in a group setting. Practitioners and clients are able to demonstrate their trustworthiness through their actions in activities
Supportive Behaviors and Interactions
Trust and support activities allow clients to explore how they use support from others or offer support to others. The practitioner can explore with clients their perceptions of different levels of trust in a variety of relationships.
Initiative
Cooperation and Relationship Building
Initiatives typically require cooperative interactions in order to be completed. This structure supports clients in developing the ability to work together effectively and engage in positive interactions. There is an opportunity with initiatives to assist clients in developing effective social skills through feedback and support.
Trust and Cohesion
Initiative activities create situations of clients providing support, maintaining safety, and taking care of others. In addition to developing aspects of trust, clients are asked to manage healthy risk by choosing to participate and allowing themselves to trust others
Problem Solving, Communication and Coping
Engaging in initiatives typically requires some level of problem-solving by clients. Clients are asked to manage the steps of problem-solving, including generating ideas, developing plans, implementation, making errors, evaluating and revising. This process can be new to clients or frustrating, which can encourage clients to identify, develop, and use coping skills.
Responsibility and Self-Awareness
Initiatives create situations of clients being responsible for themselves and others. Clients are able to increase their self-awareness regarding their level of functioning through the practitioner and peer feedback.
High Adventure/Natural Environment Activities
Responsibility and Self-Awareness
Natural environment and high adventure activities can be intentionally structured to support the development of responsibility and self-awareness. One way this is accomplished is the use of natural consequences. In an outdoor context, the results of choices become quite tangible.
Self-Efficacy and Coping Skills
In an outdoor context, skills mastery takes on a stronger sense of urgency as it relates to survival and management of the challenges of the environment. Learning new skills takes on increased importance in coping with the new setting.
Relationship Building and Cooperation
Participating in low or high adventure activities with another person creates a unique shared experience that can be given positive meaning attributions and enhance relationship development. Whoever participates typically must cooperate and trust one another in some manner as they create an interdependent group
Environmental Management
The outdoor environment is one that cannot be controlled but can be managed effectively with training and experience. Practitioners provide a structure for operating within the environment that allow clients to learn how to respond.
Connection to the Natural World
While we often focus on the impact of challenge and adventure on client functioning, the natural environment in which many of these adventure-based activities take place is also an important component in the therapeutic change process.
Matching the Activity to Client Needs (www.aee.org)
Clinical Goals
Every decision must be related to the clinical goals of your client.
Client Interests, Strengths, and Limitations
A practitioner can greatly influence client engagement, level of involvement, and transferability of activity by applying the practitioner's understanding of a client's interests and strengths to the activities used and how the practitioner decides to facilitate them. Practitioners select activities that are achievable for clients.
Client Development
Consider the stage of the client in the change process, the developmental stage of the client or group development.
Sequencing
Activities are selected in a sequence that supports the client's progress toward goals.
Activity Structure
Consider what is required of a client to successfully complete an activity. It is often helpful to create a parallel process so what is required to complete the activity successfully is the same things that will be required to achieve the treatment goals.
Activity Presentation and Props
Assess and attend carefully to the expected implications of the props presented and use them intentionally to enhance the experience. Rules, guidelines, safety considerations, space, and time are all issues that you can adapt to meet the needs of your clients.
Level of Risk
Adapt activities to compensate for what you are seeing in clients related to physical safety and emotional risk.
The sequence of the activities
 Group Formation
All of the activities used at the beginning of the prescribed sequences are designed to help the members of a new group get acquainted with each other. Their progressive set of activities allows the participants to experience fun in a safe social environment. In addition, some of the initial activities are purposefully designed to develop trust and communication skills among participants.
Group Challenge
All of the activities are used to expose the group with physical or mental challenges. To resolve these challenges, the group must make decisions while cooperatively recognizing the need for leadership and followership.
Group Support.
These categories of activities are quite similar because they require not only self-confidence and determination from the participant, but also psychological support and compassion on the group's part
Group Achievement.
The final phase represents the category of activities that extends the adventure into the realm of traditional outdoor pursuit activities. This may include short-term canoeing, backpacking, and/or mountaineering expeditions etc. The categories are titled adventure experiences, adventure activities, and activity-based or wilderness-based pursuit's activities. These activities require more time and commitment from the participants and they are invariably placed at the end of the experience.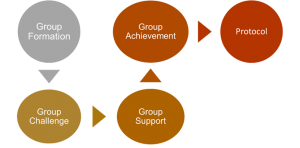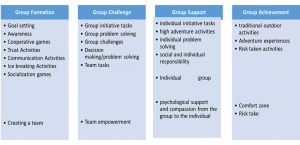 Activities protocol

Recommendation for implementation
Guidelines for Activities in Adventure Therapy (www.aee.org) 
Be competent in the activities being used by the practitioner. If the practitioner is not fully competent, he or she must be paired with someone who is fully competent in the areas required
Utilize appropriate risk management and safety guidelines, taking into consideration the special issues presented with varying treatment populations.
Actively involve clients in the activity. Utilize behavior that is not within expectation as part of future interventions. Understand that completion of the activity is secondary to the learning through the activity.
Be aware of client cultural beliefs and values about working with others, managing emotions, solving problems, dealing with conflict, touch, and personal expression
Select activities that are appropriate to the client's level of functioning and the ongoing assessment related to level of challenge, perceived risk, actual risk, knowledge of and relationship with client
Understand how to adapt and modify activities to best meet the client's particular developmental position, therapeutic goals, and other dynamics that affect the choice of an activity
Teach, reinforce, and monitor for physical and emotional safety
Monitor components of assessment continuously, including emotional and behavioral responses to interventions, perceived and actual risk, safety, progress toward treatment goals, and client functioning
Create an optimum learning environment based on assessment
Facilitation should reference therapeutic intent and connect to related life experiences. Client emotional and behavioral responses are related to treatment goals in order to enhance the transfer of learning
Maintain awareness of real and perceived risk. Adventure therapy contains aspects of real and perceived risks that impact clients.
Risk Management in Adventure Therapy (www.aee.org)
It is of paramount importance for AT therapists to have established risk management plans in place that reduce the potential for causing trauma to clients.
AT Therapists need to have a clear idea of the severity of client issues that can be managed by the services provided and follow identified criteria in making these clinical decisions. If a client presents a significant risk of harm to self or others, program removal must be considered.
AT Therapists must assess clients and facilitate activities carefully so that risk is managed and clients are compliant at an acceptable level.
Clinical Quality Assurances (www.aee.org)
Assessment: Initial assessments regarding client appropriateness for services.
Treatment Planning: Appropriate and effective treatment plans are to be developed with clients that indicate the frequency and duration of interventions for clearly identified problems.
Clinical Documentation: Documentation is to be completed completely, professionally and in a timely manner. Documentation will likely include assessments, treatment plans, progress notes, and incident reports.
Informed Consent: Practitioners are expected to communicate clearly and openly with clients about the risks and benefits.
Confidentiality: In providing AT, it is expected for organizations, programs and practitioners to inform clients about their level of confidentiality and the limits of confidentiality.
Program Evaluation: The effectiveness of services is evaluated in order to determine if the services are meeting designated goals.
Guidelines
Develop an itinerary as a map so you can plan your meals, activities and prepare the equipment you use. In addition, also designing an alternative in case of unexpected events. Also Determine the Distance, the terrain and the weather conditions
Outline a full description of the route you want to follow, where you intend to camp and when to return. A travel plan will help your partners know where you are going and when you plan to return.
Determine the location of the nearest medical facility and how to evacuate an injured member.
Operate within your training and abilities.
Determine the appropriate Team Size and the Team Member Capabilities regarding high-adventure trek or any outdoor adventure