The Design of the Training Tool will be based on the ADDIE model
The ADDIE model is a framework that lists generic processes that training developers use. It represents a guideline for building effective training tools in five phases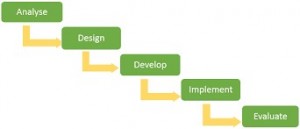 Analysis phase
The analysis phase clarifies the instructional problems and objectives, and identifies the learning environment and learner's existing knowledge and skills. During the analysis, the objectives of the training tool will identify the needs of the target population, existing knowledge and any other relevant characteristics that help in better understanding.
Focus on:
Who are our learners/clients and what are their characteristics?
What are the learners/clients related needs?
Motivations?
Behaviors?
What is the desired new behavior?
What kinds of experiences do clients/therapists need?
What related experience do they have?
What do they need to know?
What types of learning constraints exist?
What gap exists between what they know and what they need to know?
What do we need to consider about them?
Design phase
The design phase deals with learning objectives, assessment instruments, exercises, content, subject matter analysis, lesson planning, and media selection. The design phase should be systematic and specific. Systematic means a logical, orderly method that identifies, develops, and evaluates a set of planned strategies for attaining project goals. Specific means the team must execute each element of the instructional design plan with attention to detail. After completion of this phase should be created a practical document will be used as reference for the next phase of Development.
Focus on:
What content needs to be created?
What appropriate activities need to be developed?
Protocol?
Goals?
Sequence of the activities?
Choosing content that's consistent with the goals?
Ways to achieve the goals?
Assessing participant learning in relation to the goals?
Who are the learners/clients who can benefit from our tool?
The formation of specific learning objectives required to achieve the final goal?
What learning theories will be used?
Potential challenges?
What resources are available?
What outcomes will meet learners/client's needs?
Development phase
In the development phase, the developers create and assemble content assets described in the design phase.
(Pilot) Implementation phase
The implementation phase develops procedures for training facilitators and learners. Preparation for learners (clients & therapists) includes training them on the new tool.
Focus on:
Can we deliver the pilot effectively and how?
What content and resources will we need?
How will we know if the pilot is has met the needs of our learners/clients?
What do they expect?
What do they need?
How can pilot meet their needs?
How can we help learners meet their needs?
What do the learners/clients need to know to accomplish the implementation?
Who will support the pilot, how will be organized, where, when etc.?
Evaluation phase
Focus on:
Are the needs of learners/clients being addressed in the design and development of the pilot?
What methods are working/not working during the pilot?
How did learners/clients evaluate the tool upon completion?
Which variables we will evaluate?
Evaluation tools?