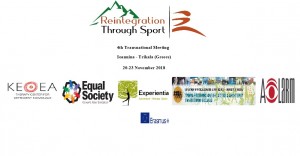 The Reintegration Trough Sport project 4th transnational meeting will be held in Ioannina – Trikala (Greece), 20-23 November 2018, and will be hosted by the project partner University of Thessaly.
The main goal of the meeting is the development of the Training Tool structure. The process to be followed will be based on the ADDIE model, which is represent a dynamic, flexible guideline for building effective and innovate training tools.
The first day of the meeting will be hosted by the KETHEA EPIROU Therapeutic Community in Ioannina. During the meeting a bicycleroad will take place with the participation of therapeutic community members, students of the Physical Education Department of the University of Thessaly as well as all the project team members in order to empowering the interaction between young people and connect them with the project goals.
In the meeting will participate:
Fotis Panagiotounis (Project Manager, KETHEA)
Prof. Ioannis Theodorakis (Sport Psychology, University of Thessaly)
Prof. Charilaos Kouthouris (Outdoor Recreation Management, University of Thessaly)
Petros Natsis (University of Thessaly)
Konstantinos Mantzos (Researcher, KETHEA)
Panagiotis Chaldaios (Drug Addiction Expert, KETHEA)
Trond Stalsberg Mydland (Researcher, A-LARM)
Jan Ivar Ekberg (Drug Addiction Expert, A-LARM)
Victoria Skretting (Drug Addiction Expert, A-LARM)
Elizabeth Kleppe (A-LARM)
Rose, Alexander (Adventure Therapy Expert, Asociacion Experientia)
Natalia Ruiz de Cortázar Gracia (Adventure Therapy Expert, Asociacion Experientia)
Fotis Spiropoulos (Social Return on Investment, Equal Society)
We are  looking forward to working together
Let's get this done…
Fotis Panagiotounis
Project Manager, KETHEA