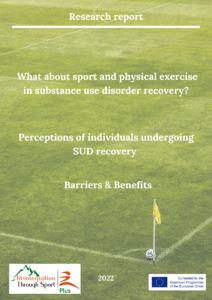 What about sport and physical exercise in substance use disorder recovery?
Perceptions of individuals undergoing SUD recovery
Barriers & Benefits
The study was addressed to individuals undergoing SUD recovery (clients). The initial purpose of the study was to capture clients' perceptions regarding the connection between sport and physical exercise (PE) participation and their SUD recovery outcomes. In addition, the study assessed clients' perceived benefits and barriers to their participation in exercise and sports interventions as well as the perceived factors that are likely to prevent or encourage them to participate in similar interventions in the future. In this multi-method research approach study, 774 clients from a total of 29 organizations, from 9 European countries, completed self-report tools; also, 24 interviews and 6 focus groups (40 participants) were conducted. The duration of the research was from September 2020 to May 2021. Clients highlighted that the link between sport and PE participation contributed positively during the process of SUD recovery by helping them to improve their mental, emotional, social, and physical wellbeing. Clients also emphasized, among other things, that encouragement, motivation, and the availability of more free time can facilitate their participation in sport and PE in the future.
Read the full report here